The Salt Lake Tribune
Teen group backed by Disney making a Utah club stop
Music » Band of siblings (and friend) includes cast members of "Glee" and "Austin & Ally."
By David Burger | The Salt Lake Tribune
First Published May 02 2012 03:26 pm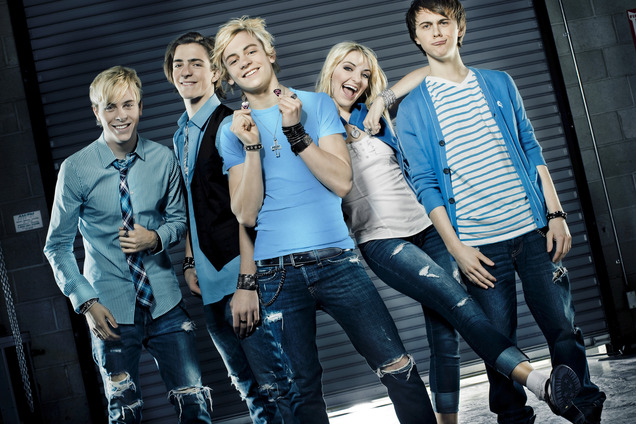 One Direction is leading the resurgence of boy bands in popular culture but isn't scheduled to appear in Utah until July 2013.

Meantime, those craving the sounds of youth can catch R5, a new Intermountain West-grown band that's far from the manufactured sounds of big-name boy bands.
R5, which signed a deal with Disney Music Group's Hollywood Records on April 25, is a group of five young musicians who are launching a small club tour, hoping to parlay their successes on the Disney Channel and "Glee" to greater success.

The Lynch family band — brothers Riker, 20, Rocky, 17, and Ross, 16, with sister Rydel, 18 — are from Littleton, Colo. They've teamed up with friend Ellington Ratliff, 19, to write and perform original songs.

The Lynch family moved to California in 2007 so that the children could pursue show-business dreams. The higher-profile gigs family members have snagged include Ross' leading role of Austin on the popular Disney Channel series "Austin & Ally," while oldest brother Riker has a recurring role on "Glee" as one of the Dalton Academy Warblers.

"R5 is a bigger priority for me," said Riker, who plays bass in the band and is one of the primary songwriters, along with Rocky, who plays lead guitar. "This is what I love. I helped write the songs. I have more effort put into this."

Riker, who toured with the "Glee" cast on its second nationwide tour, is the leader of the family band that has been performing in front of audiences at fairs and theme parks for as long as the siblings can remember. Rydel, the lone girl in the group, is a keyboard player. She made her stage debut at age 1, dancing as if she were a ballerina, Riker said.

The Lynch siblings are cousins of former Utah residents Julianne and Derek Hough, who tasted success at a young age from "Dancing With the Stars" and film roles. So it wasn't a tough decision to move from Littleton to Los Angeles, Riker said, even though his father had to sell his plane and motorcycle to finance the move.

In the role of Austin, Ross plays an aspiring singer who becomes an overnight Internet sensation on the TV show. He plays rhythm guitar for R5 and says he has no qualms about the band's first tour. The only bout of stage fright he can remember was his unofficial debut, at age 5, when he refused to perform a dance solo. Of his second performance: "Once I got onstage, I was addicted."

Ross, who plays rhythm guitar, has the busiest schedule of the siblings, working on the set of "Austin & Ally" during the day and rehearsing songs at night and on the weekends with R5.

The tour stop for R5 is the first time in Utah for the siblings since Riker and Rydel tried out for parts in "High School Musical 2" and "High School Musical 3." Both made it through several rounds of auditions. But eventually, Riker, then 16, and Rydel, then 13, were asked their ages and politely dropped from consideration. The production crew wanted older actors to portray the high-school students.

On this tour, the fact that they're young is what R5 and The Disney Music Group are counting on.
Source: The Salt Lake Tribune