Published on August 17, 2012 by
Kevin
|
Comments (2)
If you've been following us on Twitter, you know first hand that we've been working towards getting ourselves to 1,000 followers. Well late last night we finally succeeded in reaching, and surpassing that milestone! A big shout-out to all of our Twitter followers, and all of our site visitors as well! Without you all, we wouldn't be here! You all ROCK!
Here are some statistics on Ready, 5et, ROCK!
There are currently over 1,300 registered users on this entire network, with almost 2 Million hits and over 1.1 Million visits since the site first opened in April of this year. Our Facebook page has a small but still growing 33 Likes, while our Tumblr page has over 200 followers. Our YouTube page has over 2,200 subscribers and almost 3 Million video views! And our Twitter page has over 1,000 followers and counting! These numbers continue to grow each day, and we can't say thank you enough for all of your continued support!
As part of our efforts to reaching 1K followers, we also said we'd do a special giveaway for an R5 t-shirt signed by the group, including Ryland!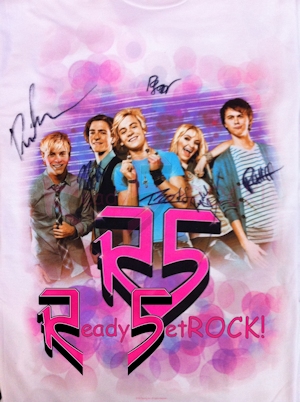 Here's how this giveaway will work:
We will randomly choose one of our Twitter followers on Monday, August 20th as the winner. All you have to do is be a follower on our Twitter account AND a registered user of this website, with your account active and not waiting to be validated. What does that mean? When you first register for an account, a validation email is sent to the email address you inputted when you registered to validate and activate your account. If you did that, then your account is valid and active, if you did not, then your account is not valid and inactive. Please be sure to validate and activate your account in order to qualify. If you need help, please contact us and we can help you out with your account. That's it! We'll randomly choose a winner and announce it on Monday, August 20th!
This giveaway is open to everyone worldwide, you just need to follow the guidlines above! We'll even open it up to those who have entered and won a previous giveaway we had within the last 6 months! It's our way of saying thank you for all of your continued support.
OFFICIAL RULES: NO PURCHASE NECESSARY. Open to all users worldwide. Contestants must be over the age of 18, or if under the age of 18 have parents permission to qualify. We are not responsible for any technical glitches that could occur at the time we choose a winner.