Published on February 23, 2015 by
Kevin
|
Comments (2)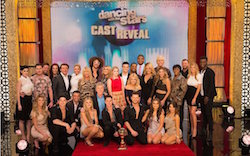 The cast of the "Perfect 10" season (10 years, 20 seasons) of ABC's Dancing with the Stars has been officially announced, and Riker Lynch will be part of it! Riker will be partnered with renowned dancer Allison Holker.
Season 20 premieres Monday, March 16th at 8pm only on ABC. Check your local listings.
How exciting! Be sure to tune in and vote every week!