Published on March 31, 2013 by
Kevin
|
Comments (0)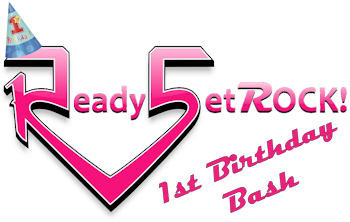 Ready, 5et, ROCK! is turning 1 year old this month and what a perfect way to celebrate our 1 year anniversary than with some awesome new stuff!
New Layout
As you may have noticed, we've got a brand new layout! We hope you enjoy it! Something popular from our old layout was the rotating banner, well we decided to bring it with the new layout! 5 different banners rotate each time you visit the site! Let us know what you think!
New Giveaway
Something we're really good at, and something we know you all absolutely love are our giveaways, so why not do one to celebrate our 1 year anniversary! The 1St Birthday Bash Giveaway is now open and will be running throughout the month of April! Enter for your chance to win a pretty awesome R5 Fan Pack!
Click here to view full details of the giveaway! Good lick to you all!
Another, special giveaway is coming, more especially for our R5 Family members in the New York City area! What could it be? Find out real soon! Trust us, you're going to get LOUD!
We want to thank all of you for your continued support for R5 and Ready, 5et, ROCK! We have grown to become the largest R5 fan site ever connecting thousands of R5 Family from all over the world. We would not be where we are today without all of your support. This website is as much all of yours as it is ours, so thank you.
More awesome stuff coming, stay tuned!