Published on January 25, 2013 by
Kevin
|
Comments (3)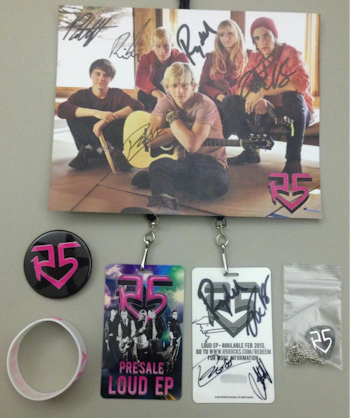 Get ready to Get Loud everyone! RSR Promotions presents the Ready, 5et, ROCK! Get Loud Sweepstakes! In celebration of the upcoming release of R5's newest EP, Loud, we're giving away an awesome R5 Loud prize pack! The sweepstakes will run from the beginning of February through the first week of March. But here's the best part, there will 5, yes 5 chances to win with a new winner chosen every week!
So I'm sure you're asking, "what do we win?" Winners will receive an awesome R5 Loud Prize Pack consisting of an autographed souvenir laminate with download code to digitally download R5's new EP when it releases on February 19th, an autographed band photo, silver pick necklace, R5 Family bracelet, and an R5 button! Now that's a Loud prize pack!
Get ready everyone! Sweepstakes opens on Friday, February 1st at Midnight Pacific Time and will end Friday, March 8th at Midnight Pacific Time!
Click here to view the website where the sweepstakes will be held and where you will be entering once the sweepstakes opens. To view the Offical Rules, please click here. Just like all of our other sweepstakes, you are free to enter as many times as you can each day so as long as it complies with the Official Rules!
Questions or comments, please contact us. Who's excited!