Published on November 11, 2014 by
Kevin
|
Comments (3)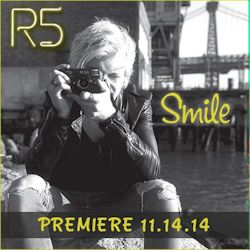 Listen to the premiere of R5's newest single titled "Smile" this coming Friday, November 14th at 7pm ET / 4pm PT only on Radio Disney!
Yesterday, each member of the band posted Instagram videos with lyrics to the song, teasing to the official announcement of the premiere for the song made today.
Teen Vogue will also premiere the music video for the new single this Friday at 4:30pm PT. The single will then be available everywhere at 9pm PT.
Who's excited? Will you be listening? Tune in to your local Radio Disney station, or listen online at RadioDisney.com to hear the new song!