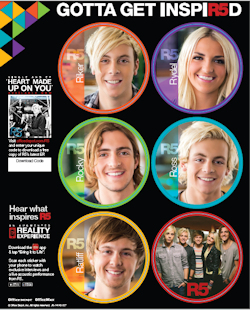 R5 has partnered with office supply chain Office Depot for 'Gotta Get INSPIR5D,' a campaign encouraging students to work hard, do greater and think bigger. R5 is supporting this mission by sharing their own inspirational stories in an effort to motivate students to work hard and follow their dreams. From July 21st through September 30th at most Office Depot and OfficeMax store locations, fans can experience a one-of-a-kind augmented reality engagement with the band. By using a smartphone, and one of Office Depot's mobile apps R5 "comes alive" on the phone's screen, delivering video messages and providing an opportunity for fans to take a photo with the band.
Adding to the exclusive in-store experience, fans who make an in-store purchase of $75 or more can receive a limited edition R5 'Gotta Get INSPIR5D' sticker sheet (pictured right). The stickers unlock exclusive R5 band member interviews, an exclusive R5 live performance, and include a code for a free download of R5's new EP, Heart Made Up On You set for release tomorrow, July 22nd.
Office Depot and OfficeMax visitors can also participate in the 'Gotta Get INSPIR5D' campaign via social media using #INSPIR5D and enter a contest to win a trip to Chicago to meet R5 and attend their concert on September 19th.
Click here to visit the exclusive website for photos, videos, sweepstakes, and other goodies.
We'll have more on this coming!