Published on January 12, 2013 by
Kevin
|
Comments (3)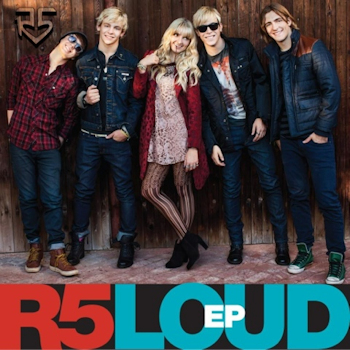 There's a lot of information floating around about R5's new EP set for release on Tuesday, February 19th. Some information is causing some confusion amongst fans. Here's the information known for now about the upcoming EP release, hopefully this will alleviate the confusion.
Laminates: To Get One Or To Not Get One
Laminates are available for purchase on R5's official web store for $10 each. The laminates are a limited edition collector's item. By purchasing those laminates, it also pre-orders you a copy of the EP. On the back of the laminate is a code which you can redeem on this website to download a digital copy of the Loud EP. So for $10, you get a collector's laminate plus a copy of the EP, pretty sweet deal.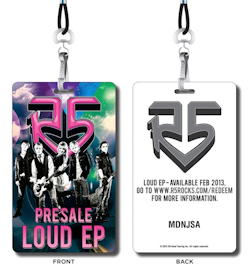 If you do not purchase the laminate, that does not mean you are unable to purchase the EP. The EP, for now, will only be available for digital download. Having said that, the EP will also be available on iTunes and possibly other digital music providers globally for most so that you can purchase and download the EP. All the laminate does is reserve you a digital copy using the redeem code on the back to download it once it's released, and also give you a nice little souvenir to go with it.
Disc vs. Digital
The EP will only be available to purchase in a downloadable digital format either by purchasing the laminate and pre-ordering a digital copy, or by purchasing through iTunes. Physcial disc copies will be available during the upcoming tours and the R5 official web store only.
Release Date
The EP is set for release on Tuesday, February 19th, 2013. It will comprise of 4 tracks collaborated with Emanuel "Eman" Kiriakou and Evan "Kidd" Bogart.
Track List:
1. Loud
2. Fallin' For You
3. I Want You Bad
4. Here Comes Forever
Loud Tour
A Loud Tour is currently in the works for the Spring, probably around March-April. Official dates and cities are unknown and unconfirmed and are still being worked out and finalized and will be announced soon.
Hopefully I was able to clear up any confusion and answer any questions you have. If there's still something you are unsure of or have any other questions, leave a comment on this post, or tweet us on Twitter!