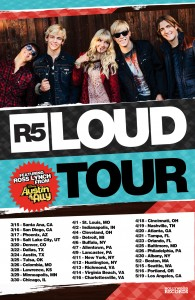 Ticket pre-sales have concluded and general public sales have begun for R5's upcoming Loud Tour have officially begun!
VIP packages are available for this tour and can only be purchased from R5Rocks.com are are still available for most cities. While some of the venues may offer a "VIP ticket" on TicketMaster or the venue website, that only means that they are better seats and has nothing to do with the band's VIP upgrade!
Pre-sale tickets for the following cities sold out during the pre-sale period.
San Diego
Denver
Dallas
Austin
Chicago
New York City
Philadelphia
Cleveland
Nashville
Los Angeles
Minneapolis
Huntington
Cincinnati
Nashville
Tampa
Orlando
St. Louis
General public sales, which means more tickets, began selling Friday, February 8th beginning at 10:00am local time for most cities via TicketMaster or directly from the venue.
TAMPA, FLORIDA SHOW - general sales are now available as of February 16th at 12 Noon local time. To purchase your tickets, please click here to access the venue box office online.
The San Francisco show did not have pre-sale tickets, however tickets have gone on sale as of Sunday, February 10th directly from the venue's website.
VIP tickets are available for all shows for an additional cost and are only available from the R5 website. Please note that a GENERAL ADMISSION ticket is sold separately and is REQUIRED along with a VIP ticket in order to attend the VIP event. If a parent or guardian will be accompanying you to the VIP event, they must have a general admission ticket to the show and only 1 (ONE) parent can acompany you. You can buy VIP tickets or pre-sale tickets separately if you wish. The VIP event takes place about 90 minutes before showtime and includes:
Meet and greet and Q & A with the band
Eco-friendly tote with R5 swag
Photo with the band
Early entry for the sound check party
Autographed "Loud" EP
You will receive an email prior to the show with full details on where to go and what time you need to be there. If you're late, you won't be let in!
The following cities did sell out for VIP.
Chicago
New York City
Atlanta
Boston
Philadelphia
Hamilton, Canada
More VIP tickets were added to the Philadelphia today, get yours before it's sold out for good!
Each show is limited to 125 VIP tickets each. 25 more VIP tickets were added for each city, but no more than that. Once VIPs sell out, they sell out! VIP's are still available for all shows but are selling quickly so be sure to get yours as soon as possible! Remember that while some of the venues may offer a "VIP ticket" on TicketMaster or the venue website, that only means that they are better seats and has nothing to do with the band's VIP upgrade!
Some shows have an age restriction, which will vary from show to show. Please be sure to double check the show info to make sure if the show you are attending does not have an age requirement. If you are below the age requirement for that show, you must be accompanied by an adult to that show. This is either local or state law, or venue rules, there is no way around it.
The Dallas show is the first show to completely sell out! Rock on Texas!
CANADA
Canadian tour dates have been announced! Pre-sale and VIP tickets are available right now! Click here to view dates and stops and to buy your pre-sale and VIP tickets. Please remember that VIP tickets are only available from the R5 website. Any "VIP upgrades" offered by the venue only gives you better seats for the show and does NOT grant you access to the VIP event prior to the concert.
General ticket sales for both East Coast and West Coast dates are now available via TicketMaster Canada or directly from the venue.
Signings
A lot of people have been asking about whether or not the group will have a signing after each concert. That all depends on the group's travel schedule, and at the discretion of management. While they do their absolute best to be able to meet with all their fans, sometimes it just may not be possible. Should they occur, it will be right after the concert somewhere in the venue for a certain period of time. There you will be able to see the group and get a limited amount of face time with each band member and have them sign one of your items.
Keep in mind this will be usually be a quick "walk-through" signing session and not a full fledged meet and greet session in order to accomodate as many people in line waiting to see them as possible.
Again, a signing session will depend on the band's travel schedule and management discretion. Please do not be upset if the band is unable to do a signing after some shows and understand that they are on a tight touring schedule.
I hope I was able to address most of your questions. If you are experiencing technical issues with VIP ordering, or have questions about your ticket pre-order or require additional assistance beyond our control, please email CrowdSurge Support. For general ticket sales from TicketMaster, please contact TicketMaster Support for the United States or Canada.
If you have any further questions, please tweet us or email us and we'll do our best to answer it. We don't have all the answers, but we'll do our best to find the answer for you!
Keep checking back on this post as we will continuously update it with more questions addressed, and any shows with sold out pre-sales and/or VIPs.
So, who's excited! For those asking, I will be at the San Francisco show!
LAST UPDATED: February 25, 2013 at 10:42am PST