Published on February 1, 2013 by
Kevin
|
Comments (0)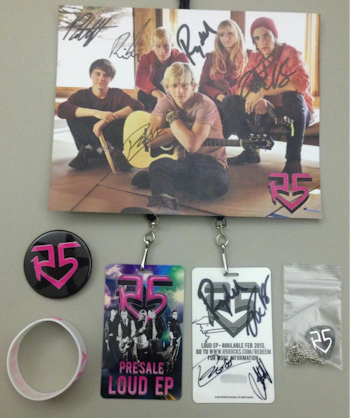 Get ready to Get Loud! The Get Loud Sweepstakes is now officially OPEN! Enter for your chance to win an awesome R5 Loud Prize Pack!
Click here to enter now! Remember, there are FIVE chances to win with a new winner chosen each week for the next 5 weeks!
There is no limit as to how many times you are allowed to enter per day, so as long as your entries do not violate the Official Rules and all entries will carry over each week. Please note that this sweepstakes is not hosted on our normal sweepstakes server or running on our normal sweepstakes system, so the entry form is a little different and there is no confirmation email each time you enter. Also, additional entries through Twitter, Facebook, and Tumblr are only valid ONCE PER DAY and MUST be done through the buttons on the entry page to be valid. For full details and to read the Official Rules, please visit the sweepstakes page.
Rock on, get Loud, and good luck to you all!