Published on November 25, 2015 by
Kevin
|
Comments (0)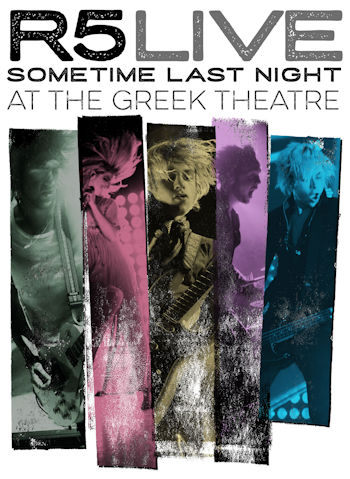 R5 has announced their first ever live concert DVD!
This two disc set (DVD + Blu-ray) captures R5's epic performance at the legendary Greek Theatre on August 23, 2015 in Los Angeles, California.
The DVD features over 80 minutes of live music, exclusive interviews with the band and a 48-page photo booklet with live & backstage pictures from their 30 plus summer Sometime Last Night headlining tour. Live performances include high-energy tracks from R5's debut album Louder such as "Forget About You," "Loud" and "Ain't No Way We're Going Home," groove-heavy, guitar-driven tracks from their latest release Sometime Last Night include "All Night," "Dark Side" and "Did You Have Your Fun" and fan favorites such as "Cali Girls," " Smile" and " F.E.E.L G.O.O.D." This is a must own for the legions of R5's faithful fans, and an excellent introduction to the uninitiated. Available in NTSC Format only.
Pre-order your copy now from R5Rocks.com!
You can now also pre-order your 2016 R5 Family Fan Club membership with this DVD and more!
Includes: 
Live at the Greek DVD
Live at the Greek Setlist T-Shirt
1 year Fanclub Membership
"Setlist" T-Shirt features the setlist of songs who are included in the "Sometimes Last Night - Live at The Greek Theatre" DVD. Available in NTSC Format Only.
Click here to pre-order your membership now!
How exciting! Make sure you pre-order your copy now!