Published on December 29, 2012 by
Kevin
|
Comments (0)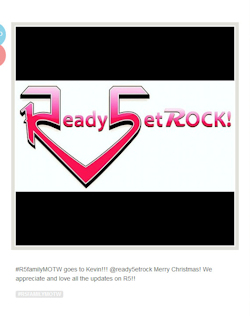 I'm sure you all know by now that we were selected as this week's R5 Family Member of the Week by R5. We got the notice on Christmas Day of all days. Let me first say that that was something completely unexpected and one that I was very pleased to wake up to see on Christmas morning. I am honored that R5 selected me for this honor and of all times as well. I dedicate this to you all, the R5 Family. Yes, technically me from Ready, 5et, ROCK! was selected, but Ready, 5et, ROCK! is all of you, so you all won this with me this week! I just wanted to take this time to reflect on just how much this site has grown since it first opened in April of this year. Since then we've grown to almost 2,000 registered users, over 2,400 followers on Twitter, over 6,200 subscribers on YouTube, almost 300 followers on Tumblr, and almost 100 Facebook page likes. Your continued support for us and what we do is what keeps us here and we cannot tell you just how much we love and appreciate all of you for that, thank you just isn't enough.
To Riker, Rydel, Ratliff, Rocky, Ross, Ryland, Mr. Mark, Mrs. Stormie, Mr. George, and Mrs. Cheryl, your support for us is incredible. Thank you to all of you for your recognition, love and support. I couldn't do all that I set myself to do without your help and support as well. Thank you.
This R5 Family Member of the Week is dedicated to the entire R5 Family. You all ROCK!