Published on September 11, 2012 by
Kevin
|
Comments (0)
It's the spookiest time of the year and Disney Channel is celebrating with "Monstober" – a bone-chilling month dedicated to Halloween-themed episodes, movies, games and new series premieres, beginning Friday, October 5th. One haunting highlight is the season two premiere of 'Austin & Ally' on Sunday, October 7th.
New games and other activites will also be featured on DisneyChannel.com. Starting September 28th, DisneyChannel.com/Halloween to go through the ultimate 'monster-morphosis' by uploading a picture and using monster-themed assets to transform into a monster. A few lucky monster creations will be shown on Disney Channel. Additionally, with 'Monster Mania Maze' at DisneyChannel.com/Halloween, fans can create a haunted house-themed maze and upload it to a monster gallery. Each maze is themed to popular Disney Channel shows, including 'Austin & Ally,' 'Gravity Falls,' 'Jessie' and 'Phineas and Ferb.' 'Monstober' also brings two special games based on the Disney Channel Original Movie 'Girl Vs. Monster.' In 'Skylar's Chilling Challenge,' players control Skylar as she uses a laser to capture monsters, while in 'Skylar vs. Deimata,' fans assume the role of Skylar as she battles hordes of monsters.
The site will also feature Halloween-themed episodes of hit series: 'Gravity Falls,' 'A.N.T Farm,' 'Good Luck Charlie,' 'Austin & Ally,' 'Fish Hooks,' 'Jessie' and 'My Babysitter's a Vampire.'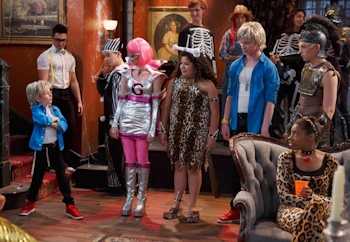 "Costumes & Courage" – Austin's new record label owner, Jimmy Starr, invites him to perform at the Starr Records Halloween party, where he will perform a duet with famous musician to Ally's new song.  However, when Dez and Trish's ghost-hunting mission goes awry, the musician is unable to perform and Ally steps in to save the day, in a new episode premiering Sunday, October 7th at 8:30–9:00 p.m., ET/PT.
Source: Disney Channel Press Release