Published on January 11, 2013 by
Kevin
|
Comments (17)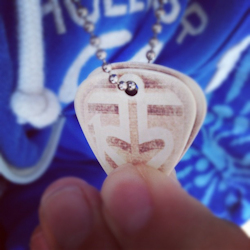 There's been a lot of talk going on around the R5 home headquarters in Los Angeles, and we got the inside scoop on it! I'm not sure if you all noticed me hashtag #R5Closet on Twitter. Well we learned that a new idea is in the works from the group where the group will pass on their clothing they have worn once or twice on tours, appearances, etc. Items will be posted for auction or made available to buy on a new website coming soon with some proceeds going to charity. The first items will be some pick necklaces that each of the guys and gal wore all last year. While they are very faded, they are necklaces actually worn by Ross, Riker, Rydel, Rocky, and Ratliff! What's unique about this new idea is the fact that you can own articles previously owned and worn by the group, while also benefiting charities.
Stay tuned, more info on this coming soon!
So, what do you think, will you be getting a piece of R5 history from their closet for your own closet while also benefiting charities?