Published on September 27, 2013 by
Kevin
|
Comments (1)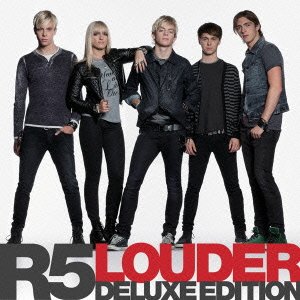 Just announced! It's about to get LOUDER in Japan! R5's official Twitter page for Japan just announced that R5's debut album Louder is set to release in Japan on Wednesday, November 13th! R5 will be traveling to the country in November for promo in November as well.
The 2-disc "Deluxe Edition" will include the original 11 tracks of the album, plus 4 bonus tracks and 2 more bonus tracks exclusive to the Japan edition:
12. Wishing I Was 23
13. Loud (Acoustic)
14. I Want You Bad (Acoustic)
15. Fallin' For You (Acoustic)
16. Crazy Stupid Love
17. Christmas Is Coming
Disc 2 will be a DVD and include:
Loud [Music Video]
Pass Me By [Music Video]
Loud [Behind The Scenes]
Pass Me by [Behind The Scenes]
We Are R5 [interview]
Album commentary by R5 [interview]
R5 Family in Japan! Who's excited! Pre-order your copy from Amazon.co.jp now! A single disc version is also available for pre-order as well. Be sure to follow R5's official Japanese Twitter for more updates!
Still no word yet for release dates in other countries at this time. Once we find out anything, we will let you all know!