Published on November 13, 2012 by
Kevin
|
Comments (8)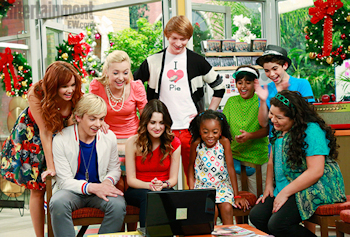 The much anticipated crossover episode of 'Austin & Ally' and 'Jessie' is set to air on Friday, December 7th at 8pm ET/PT on Disney Channel. The hour-long episode will feature 3 songs including a duet between Austin Moon (Ross Lynch) and Jessie (Debby Ryan).
In the Dec. 7 crossover of Austin & Ally and Jessie, "Austin & JESSIE & Ally All Star New Year," Austin, Ally, Trish and Dez travel to Times Square where Austin is booked to perform on New Year's Eve. When they can't get through New York City's crowded streets, Jessie comes up with a plan to get them to the stage and to ultimately have Austin record one of her songs. Three songs are performed in the hour-long episode: "Face to Face," a duet by Austin (Ross Lynch) and Jessie (Debby Ryan), and "Christmas Soul" and "Can You Feel It" by Austin.
A short promo for the crossover special have already begun to air on Disney Channel.
We'll definitely be tuning in, will you?
Source: EW.com