Published on December 3, 2012 |
Comments (6)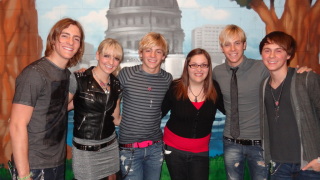 By: Samantha
Hi ReadySetRock,
So a friend and I traveled from Kansas City,MO to Madison, WI. It was a 9 hour drive and we left at 4 am the day of the show. We checked in to our hotel, got ready for the show, and left for the show by 2:15. We had VIP tickets so we got to go to the soundcheck, meet & greet and had amazing seats for the concert! I have been to lots of concerts in my life, Jonas Brothers, Big Time Rush, Hot Chelle Rae, Jesse McCartney, etc., and this was by far the BEST show by far!!! I can't wait for them to go on another tour so I can relive the best night of my life all over again!!
Much love from a hardcore R5er,
Samantha (@R5Forever92)
P.S. Attached is a pic of me and R5 from the show and I uploaded all my videos from the show at youtube.com/user/nickjonas4ever0916 (You can put any videos up on your site if you like) Thank you so much!